MAIGG sports water bottle review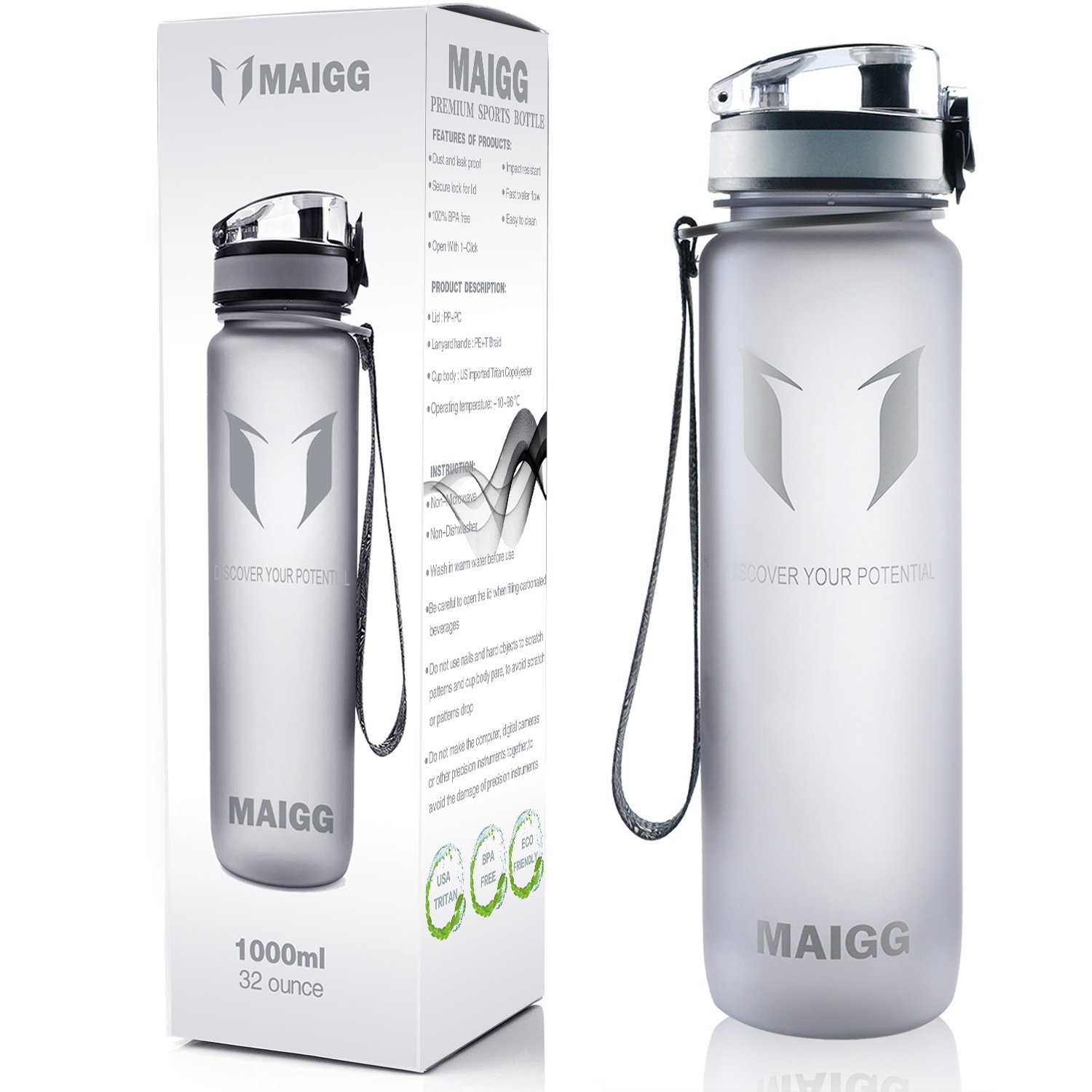 Lately I've been running a lot and I wanted a more affordable alternative to buying bottled water. So I purchased a water bottle.
I wanted something that wasn't smelly plastic and would be durable enough it wont leak in my gym bag. Also important to me was not fiddling about or biting it every time I wanted a drink because I don't like that. With these things in mind I expected to budget £10-£15 if I want something good.
Another important feature was also how much water it holds, since I go through about a litre of water when I run.
So I went to Amazon to look at the top rated water bottles. After some searching I found the MAIGG sports water bottle.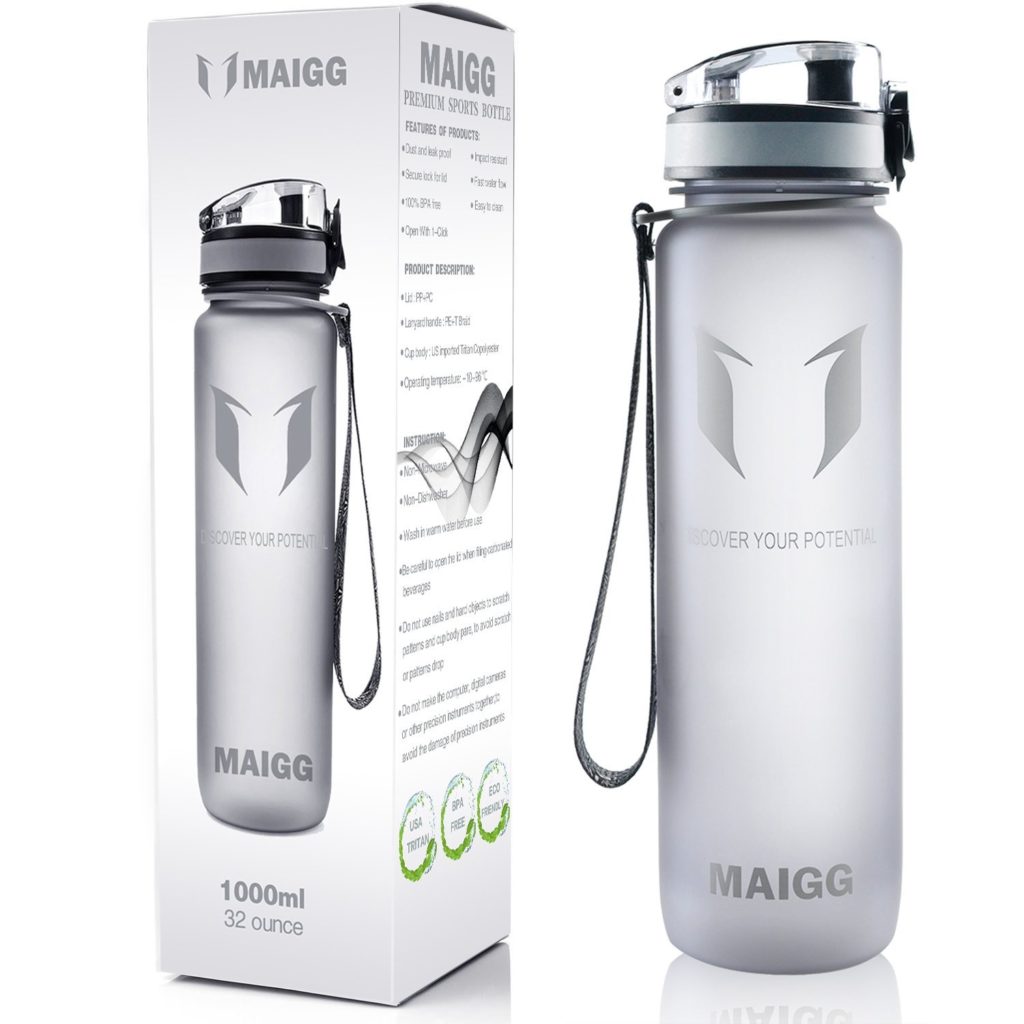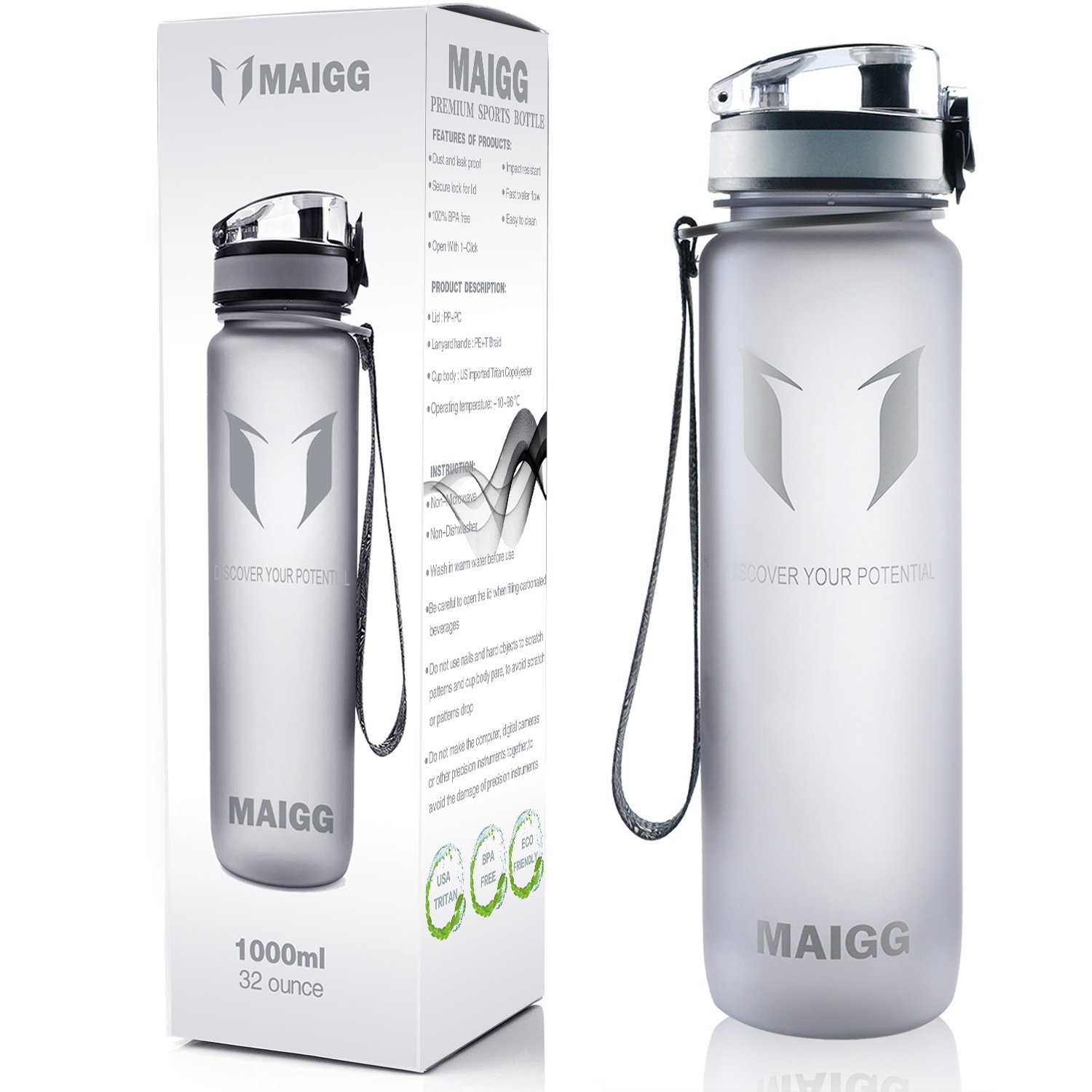 Here are some of the features and my opinion of them.
The lid
I like that the lid flips open with a press of the button because makes drinking as soon as possible and easy task.
The quality seems good enough so it should last the lifetime of the bottle.
It springs open with a reassuring amount of power, but not too much that it hits your fingers like a mousetrap.
The bottle clicks shut into place without trouble, but I did notice there's a bit of a wobble with the lid. This could help it lock into place if it's more forgiving about aligning the lock mechanism.
What I don't like about the wobble of the lid is it could break if you are heavy handed. You might also break it if you're not putting too much thought into how you're closing it.
Something else which occurred to me is I'm not sure how suitable a lid that flaps around is for running.
Leak proof button
The clip for the button is something I like which makes me think it shouldn't leak in my gym bag unless you tread on it.
My bottle did actually leak once, but likely because lid thread was out of alignment. This hasn't happened again since.
The bottle
The environment wasn't my primary concern with choosing the bottle. What I didn't want though was smelly, cheap plastic and this bottle is definitely not that.
From the very start there has been no weird smells or tastes so I'm very happy with the quality of plastic used. The product description also says it's toxin free which is a nice feature to have.
The strap
A zebra print strap is not to my taste, so I binned it. So far I haven't dropped my bottle, but if you are likely to have accidents then you might want to keep it.
The vent
The vent is a nice feature because it helps the water to flow fast. This also means drinking wont create a vacuum, which means your mouth sucked into the bottle. Nice not to have a duck face.
What I don't like about the vent is that I have to drink with the lid on my nose so water doesn't spill out from the vent. A lid resting on your nose isn't a bad thing since it's not uncomfortable, but I do find it annoying.
My general impression
The bottle is of excellent quality and design, but with minor niggles.
For most people, if you care about having a nice quality water bottle then this is a good one to have.
I wouldn't try running with it, but for me I run on a treadmill so I don't hold it while I run.
For those interested you can buy them here.